Smart Fit Geek
In my great quest to lose a bit of weight this year I have revived my 2 year old FitBit Flex and decided to try and get more in shape.
FitBit Flex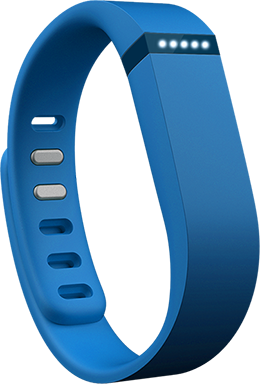 The FitBit Flex costs around £59 and is one of the best products for this price in my opinion. The package comes with two sized bands to fit onto your wrist, the device, a USB dongle to attach to your computer and a USB based charging cable. The device itself talks via Bluetooth either to your computer using the dongle or to any smartphone via their free app. The device basically tracks movement a bit like any smartphone does by using accelerometers. It's not without it's flaws, the steps calculation is not accurate from my tests but it is consistently inaccurate. By this I mean if it was 100 steps to the shop it would generally measure it between 130 and 170 steps. The device is not waterproof which for me is a fairly big issue as one of my favourite things to do for exercise is swim.
The smartphone app allows you to set goals and compete against friends, log any extra exercise and your food intake. I personally really don't use the food logging feature. I love to make my own food and I'm well aware of what goes in it plus I tend to buy very few ready made meals. I'm not one of those kind of people who wants a six pack. All I want is to feel like I am staying fit, especially now since I am 40 and the only way I grow these days is outwards.
So I have been looking for a new fitness tracker, one that does not require me to take it off when swimming and the Garmin range suits. The VivoFit is a nice looking bit of kit, the battery lasts a whole year but is not rechargeable which to me is not a good deal so I looked at the VivoSmart HR which has a rechargeable battery and is water resistant to 50m. I gave my FitBit Flex to a friend and then got my eBay on.
VivoSmart HR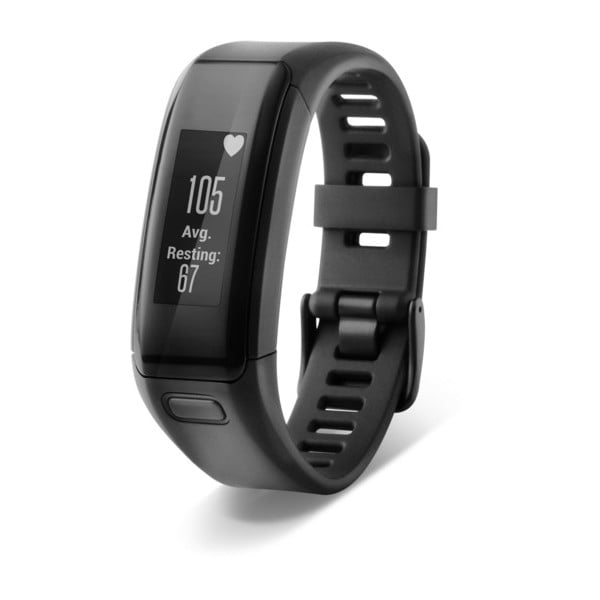 A few days later I had purchased a one for £80 and have been using it ever since. I must say I'm quite impressed with it. The battery lasts about 5 days on it which considering it's Bluetooth and a heart rate monitor I think that's quite good. The display is a touch screen which generally shows the time but with a quick flick can change between your steps, floors climbed, active time (per week), calories burned and distance. Because you pair the device with your phone you can also control your music app with it and have weather and notifications come to the device. The device also reminds you to move at regular intervals by vibrating. When your a computer programmer this is quite annoying but I guess at least it reminds me to get up for a bit. I do really like the ability to go into a "training" mode with a quick click of a button, the FitBit never had this, I had to switch on my phone and activate something and I would always forget. However the clip to recharge the device is cumbersome at best, they should of made it slightly magnetic like an Apple power adapter but if that is my only gripe that's not too bad.
I do have a big issue with the Garmin Connect website, the design and implementation of it is really not very intuitive. Maybe I need to be more into fitness to feel the benefit of it but I find it incredibly confusing. In comparison the FitBit site is really easy to use and understand. However I am already invested in Garmin a bit, I'm no fan boy but I do like their products even if their website is weird. I already have a Garmin 800 for my bicycle which tracks distance, cadence and all sorts as well as acting as a GPS and about 1.5 years ago I bought a proper swimmers watch.
Garmin Swim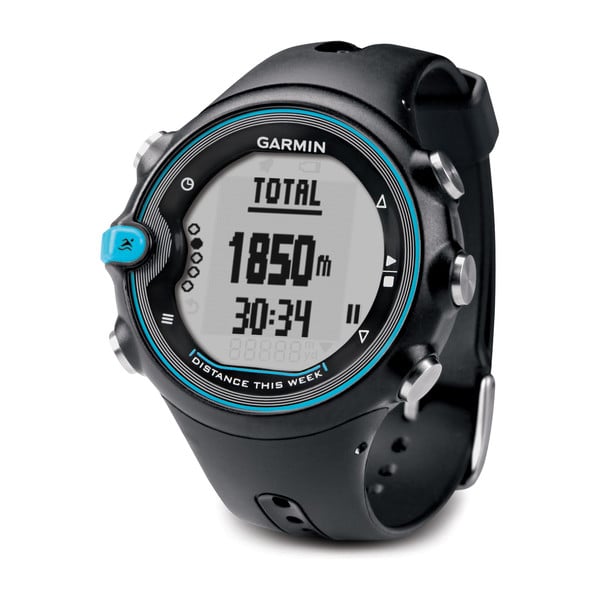 The Garmin Swim is pricey at £129 but I have been really happy with it. Having used it a fair amount during this time it does a really good job of detecting what stroke you are doing, the number of laps and the effort you are putting in. I always used to forget how many laps I had done in the pool because I kind of zone out and just swim but now I can rely upon the watch. Being a watch the battery lasts a really long time (over a year) and takes a simple CR2302 as a replacement. Be aware though this watch only tracks swimming and not steps or running or GPS like some of the more expensive Forerunner options. Your swim sessions are held on the watch until you connect it but sadly there is Bluetooth option for a phone, information is transferred via a computer with an ANT+ USB dongle and hooks into Garmin Connect.
Of course what I should do is sell both of these devices and either invest in the more universally integrated VivoActive or much more expensive Forerunner. Of course I would love to review either (or both) of these devices. If Garmin wish to send us either to trial I would be more than happy to give them an unbiased review in text and video (Do you think that's a big enough hint?)
So fellow geeks do you use any devices to help track your fitness? Maybe you have an Apple Watch, I do wonder if they are worth the money, I would never buy one anyway. Would you join a GeekOut fitness group on Garmin Connect or FitBit to help motivate you? Let us know and we can set it up.